VIRTUAL
SPRING GARDEN RECITAL
What a Knockout!
SATURDAY, MAY 15, 7:30pm
 ACHIEVEMENT HEIGHTS ACADEMY is the pivotal place for high quality
STREAM education including science, technology, reading,
engineering, math, classical music and arts for children.
We practice safe social distancing.
Our online program is taught by highly qualified teachers.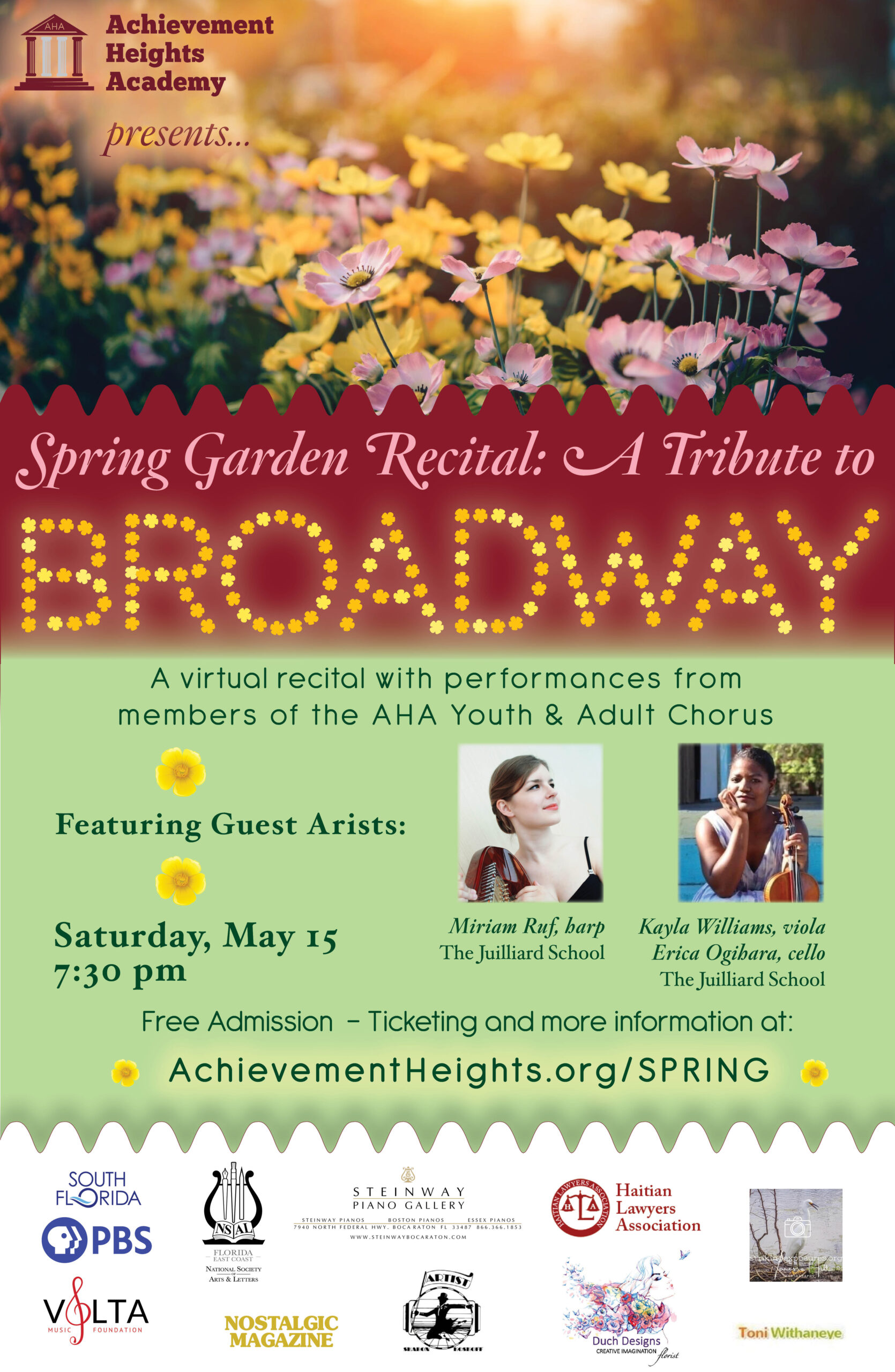 People are saying...
"This was a wonderful program! Can't wait for the next show."
L. Muñoz, New York
"The program was so beautiful! Everyone is so talented!"
Y. Higashi, Japan
"Amazing performances!"
T. Jones, California
"Such talent—I could listen all day long!"
C. Frasch, Hawaii
"A very talented group of young ones! We are definitely being entertained. Thank you!"
H. & O. Barnes, Florida
Featuring
AHA YOUTH & ADULT VOICE PERFORMANCES
Instructor, Rebecca Luttio
Special Guests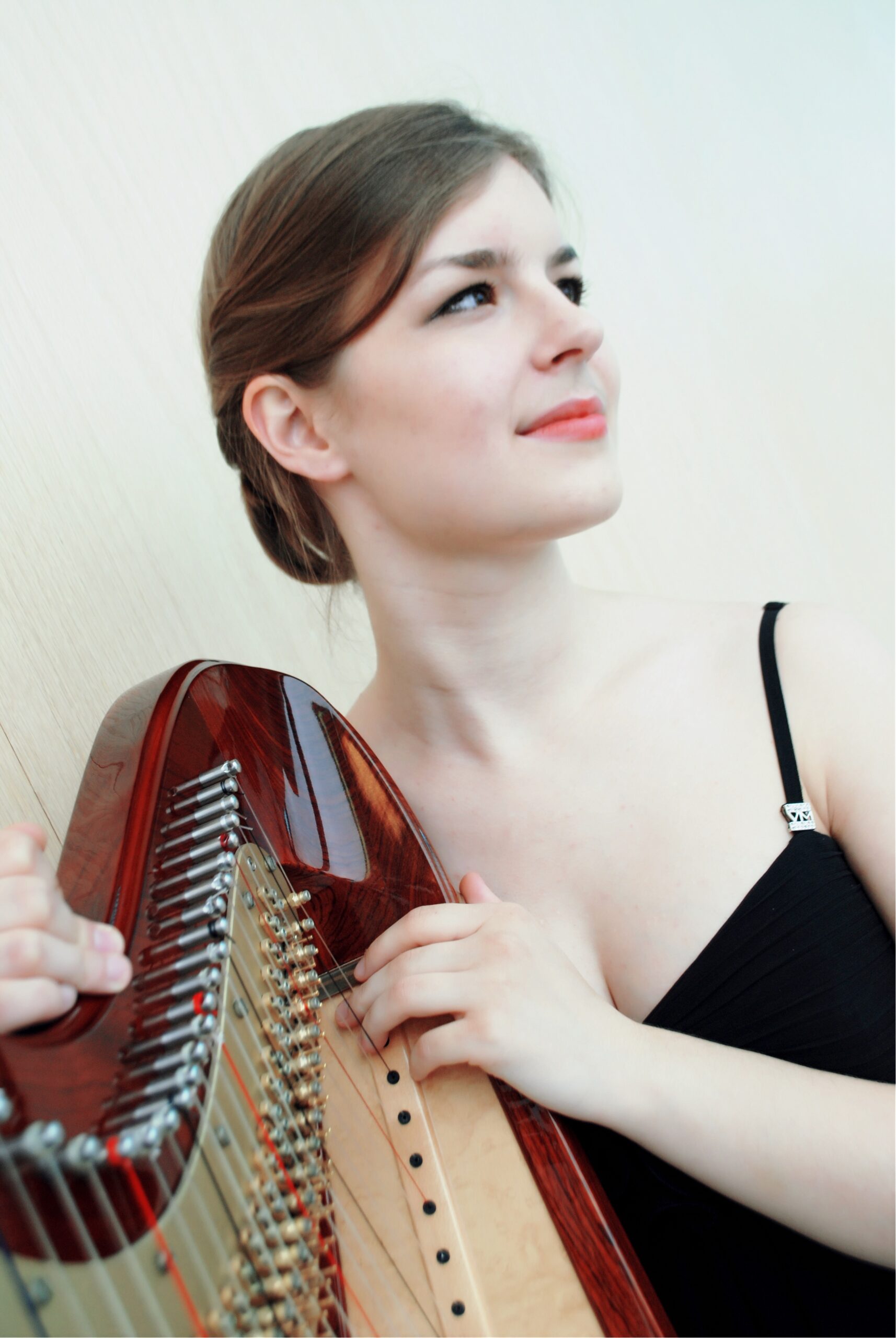 MIRIAM RUF
harp, The Juilliard School
A prize-winner from an early age, German harpist Miriam Ruf is quickly establishing herself as a noteworthy soloist at concert-halls and competitions worldwide. As a laureate of the prestigious USA International Harp Competition, and a winner of numerous German and European awards, Miriam was recently unanimously awarded the "Musikförderpreis Schwaben", recognizing her as a leading musician of her home region in Bavaria.
As a devoted soloist Miriam regularly performs with various orchestras across Europe, such as the Nederlands Philharmonisch Orkestacademie and the Collegium Musicum Ulm. Equally enthusiastic about solo and orchestral playing, she was an academist of the Nederlands Philharmonisch Orkest in the 2018/19 season. Appearances in recent years have taken Miriam to halls across the world, such as Carnegie Hall in New York and the Concertgebouw Amsterdam.
Hailing from Günzburg, Germany, Miriam holds a Bachelor's Degree from the Conservatorium van Amsterdam's Excellence Programme, where she studied with Erika Waardenburg and Sandrine Chatron.
Currently, Miriam is pursuing her Master's Degree at the Juilliard School under the tutelage of Nancy Allen. Miriam is generously supported by the Deutsche Stiftung Musikleben and the PE-Förderungen Mannheim.
KAYLA WILLIAMS
viola, The Juilliard School
Violist Kayla Williams is an advocate for music, who hopes to diversify music through her own experiences as a Black woman.
Originally from Florida, Kayla's music endeavors began on the violin at age four, joining the Tallahassee Youth Orchestra soon after. It wasn't until age ten that she discovered her true passion, the viola. As a winner of the 2018 Lynn Concerto Competition, she made her concerto debut performing Bartok's Viola Concerto.
Williams has been the guest of music festivals across a range of music genres including the Aspen Music Festival and School, Eastern Music Festival, and the Florida Folk Festival.
Williams received her Bachelor of Music degree in Viola Performance from the Lynn Conservatory of Music in Boca Raton, Florida and is now pursuing her Master of Music degree in Viola Performance at The Juilliard School in New York City.
Kayla believes music should be accessible to students of all backgrounds. She aspires to create a foundation of her own that will provide access and funding needed to support music programs in underrepresented communities.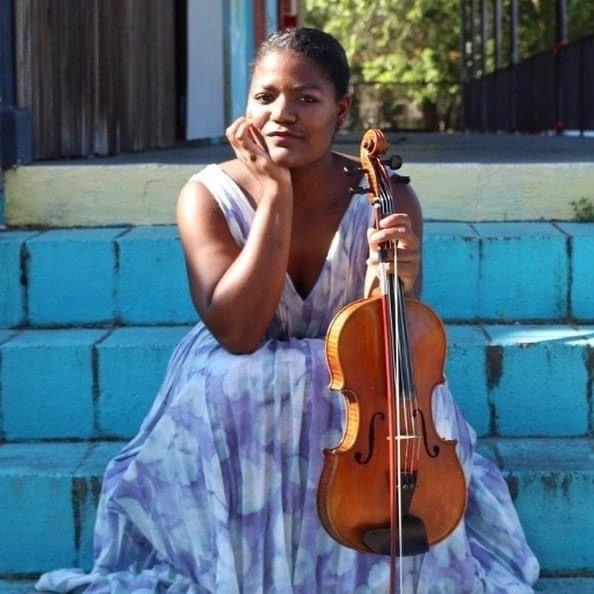 Our Fine Art & Music Program
Fine Arts Workshop Series
SEA LIFE  |  Acrylic on Canvas
FRIDAY ART  SESSIONS 
May 3, 2019 from 4:30 - 6pm
Children will paint animals that live in the ocean.
Professional Artist & Instructor, Agata Ren,
Art Concepts by Ren
February 2019 Workshop
Acrylic on Canvas
Friday Camp Art & Fresh Pizza Party | Endangered Species
January 2019 Workshop
French Impressionism
Professional Artist & Instructor, Carol Calicchio  
REGISTRATION ENDED. Beginners Comic Art Workshop Series Package | Friday, Nov / Dec 2018
Comic art is a living genre across generations. Today, it is used in print and white board animation across different fields such as business, science, technology, engineering, research, education, and journalism.
In this workshop, students will connect archetypes from classical literary history to heroes and fantasy. They will develop the keen perception to create unique characters and design their own comic book.
About the Artist | Ronald Pierre
Ronald is a highly skilled freelance graphic artist. He successfully works with multiple artistic media including lead / graphite pencils, coloring pencils and acrylic paints. Ronald also works with digital art such as Adobe Photoshop, Adobe Illustrator, Clip Studio, Affinity Photo and Affinity Design.
Dot Painting with Fluorescent Acrylics on Canvas Workshop | Friday, November 16, 2018
Students will explore Aboriginal native art of Australia using various fluorescent acrylic paint on canvas.
Professional Artist | Agata Ren,
Art Concepts by Ren
Carol Calicchio
Professional Artist & Visiting Instructor
"Suddenly, the canvas becomes a mirror to your subconscious. Thoughts that you were never aware of pop up and become portrayed in colors and shapes."
Carol Calicchio is a mother of two and a loving wife. She decided to become an artist at a very young age and has explored many different mediums which she still enjoys today.  One of Calicchio's passions is oil painting --- capturing the light and composition in landscapes and creating diversified abstracts.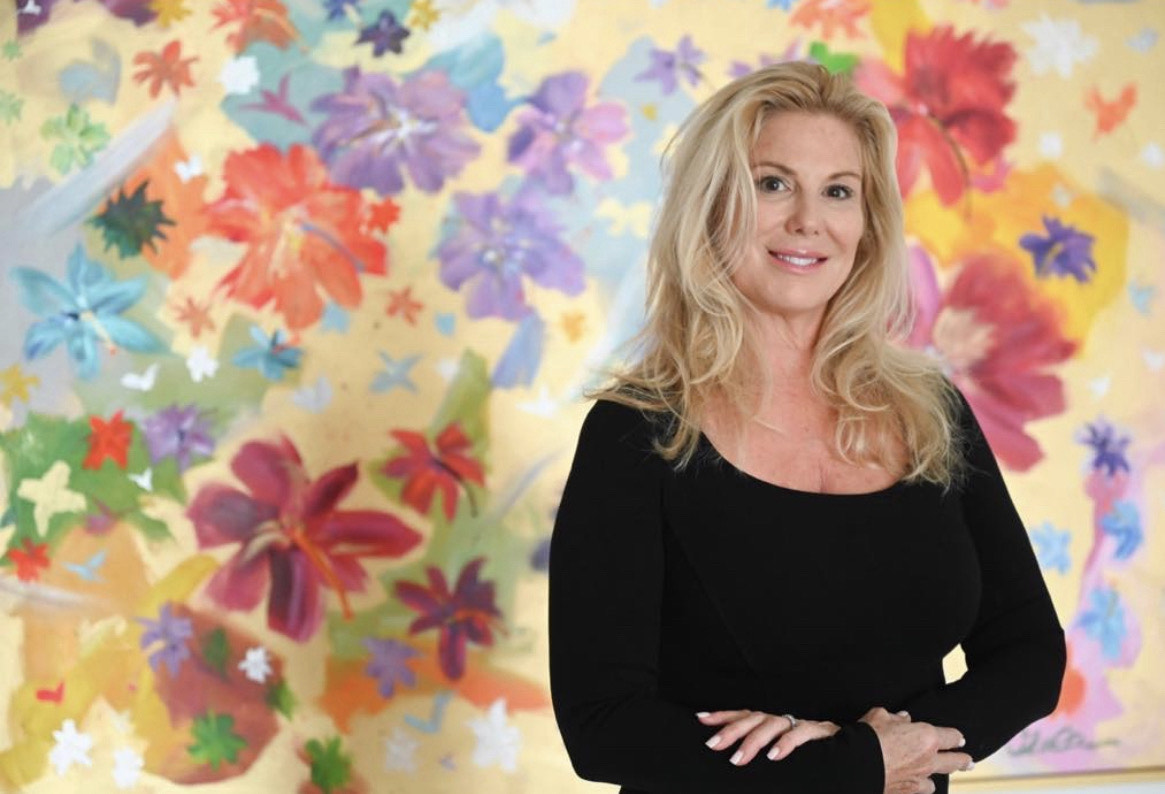 Agata Ren
Professional Artist & Visiting Instructor
Award winning artist Agata Ren is currently working on a project depicting endangered species as an artist-in-residence at her Arts Warehouse Studio. Ren was commissioned by the City of Pompano to paint a sculpture, has murals in Broward and Palm Beach counties and was awarded the Artist in Residence 2016/17 for the ArtCitywide Project by the Delray Beach Public Art Advisory Board which resulted in 15 seven-foot-tall aluminum sculptures placed permanently in key locations around Delray Beach.
The image of her Owls was purchased by Carlson Hotels, Inc to use for hotel walls worldwide for a period of 10 years. Agata Ren is Jury Chairperson for the Women In The Visual Arts Inc, an exhibiting member of the Boca Raton Museum Art Guild and the Cultural Council of Palm Beach.